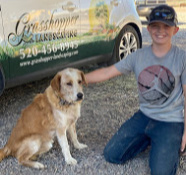 This is Duke (our dog) and Grant (our youngest).
We love Duke! He is such a good dog! We would be so sad if anything ever happened to him or he happened to do something to cause harm to anyone.
Recently our field team members and a customer service rep have had instances where they were servicing yards and have been bit by nice dogs. Dogs that would never bite or hurt anyone. Thankfully none of the instances resulted in scratching the skin or having to get tested for rabies.
Because we love our employees as much as our clients love their pets, we are implementing a dog policy effective immediately. We want the best for our employees AND our clients dogs.